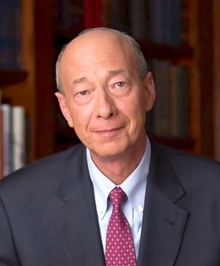 PRACTICES
Health Care Fraud
Securities & Financial Fraud
Internal Investigations
Procurement and Contracting Fraud
Public Integrity
Antitrust
Environmental Crimes
Intellectual Property Crimes
Cyber Fraud and Theft of Trade Secrets
EDUCATION
Washington & Lee University, BA 1976

St. Mary's University School of Law, JD 1979


ADMISSIONS
State Bar of Texas
U.S. District Court, Northern District of Texas
U.S. District Court, Eastern District of Texas
U.S. District Court, Southern District of Texas
U.S. Court of Appeals for the Fifth Circuit
U.S. Court of Appeals for the D.C. Circuit
U.S. Court of Appeals for the Tenth Circuit
United States Supreme Court

S. Michael McColloch
Partner
CONTACT INFORMATION
Tel:
214-643-6055 | 214-674-1868
V-Card
With over forty years of broad experience, Mr. McColloch brings seasoned and informed judgment to every case, no matter how daunting the challenges seem. This ability to evaluate a complex factual and procedural dispute—where the client's very future is at stake—was honed over many years of defending the seemingly indefensible, with few resources and against formidable odds.
After serving as a briefing attorney, Mr. McColloch spent his early years defending hundreds of street crime cases, often for indigent clients charged with heinous offenses. These were the toughest criminal cases in the system, and to win he had to investigate and put together cases the old fashioned way: single-handedly, on time and on a very limited budget. Success only came from persistence, expertise and cutting-edge, creative defenses. A winning reputation long ago led to engagement in far more complex litigation—but the bedrock principles of putting together a successful defense remain the same.
Mr. McColloch understands the issues facing corporate officers, board members and companies targeted by government agencies in criminal and agency enforcement actions—circumstances that can threaten the very survival of a business concern or the liberty of its executives. The core principles of effective defense apply with equal force to even the most complex regulatory enforcement actions, but the business client—whether public or private, regulated or not—faces additional challenges in reporting, accounting, employment, compliance and public relations that demand multifaceted guidance and expertise. Mr. McColloch has successfully navigated officers and companies through difficult cases stemming from actions commenced by the Department of Justice Criminal, Civil and Antitrust Divisions, the Securities and Exchange Commission, state securities regulators, FINRA, the Pentagon, the Defense Criminal Investigative Service, the Office of Inspector General of HHS, the Health Care Fraud Prevention and Enforcement Action Team (HEAT), state attorneys general, the Federal Trade Commission, the N.T.S.B., the D.E.A., the Environmental Protection Agency, state environmental enforcement agencies, numerous state prosecutors, and others. Mr. McColloch has challenged—and outmaneuvered—the most powerful government agencies in their own forums and at every level of the judicial arena, from state and federal district courts to state supreme courts to federal circuit courts of appeal and the U.S. Supreme Court.
Expertise
In business and in any kind of litigation, knowledge is power. And a powerful defense is one that usually wins. A lawyer facing down a prosecuting government agency must know how the agency operates and the laws that govern the agency's theory of prosecution. The successful lawyer will also know—thoroughly—the client and the business environment in which the client operates. Mr. McColloch settles for nothing short of mastery of a client's business model, its industry and its workforce. Each client benefits from top-tier expertise in the substantive law and the means necessary to fully investigate the case and the defenses. Only from that comprehensive platform can the proper and effective strategy be devised for beating back the charges. Forensic expertise is as important as command of the subject matter. Mr. McColloch employs only the best computer forensic professionals whose tenacity and talent have —more than once—produced findings that literally no other expert in the country could accomplish. This team uses state-of-the-art technology to extract, preserve, protect and examine electronically stored information, so often the key to winning white-collar cases. Forensic proficiency extends to all facets of a defense investigation. Mr. McColloch uses top-notch investigators, forensic accountants, engineers and other experts, most of whom once served as government investigators with the F.B.I., the I.R.S., H.H.S. and various intelligence agencies. These experts get results, outwit their government counterparts, and provide the ammunition to construct and execute a winning strategy.
Leadership in the Community
Mr. McColloch has assumed many leadership roles in the bar and the civic arena. He has been elected by his peers to serve as president of the criminal bar and has served in various roles by appointment to state and local bar committees. He was selected by the State Bar of Texas to act as its legislative liaison to draft and shepherd bar-sponsored criminal justice bills through the Texas legislature for multiple sessions, and a number of laws on the books in Texas bear his handiwork. A prolific author and speaker, Mr. McColloch has assumed political leadership roles at the local, state and national level including in congressional and mayoral races, city bond elections, statewide judicial races, and national presidential campaigns. Multiple Dallas mayors have sought out his advice and assistance. After media reports of malfeasance and structural dysfunction in Dallas municipals courts in the 1990's, Mr. McColloch was appointed by the Dallas City Council to chair a Blue-Ribbon Task Force of bar and community leaders to reorganize the City's municipal court system. He was later appointed by the Dallas City Council to serve as the first chairman of the city's Judicial Nominating Commission. Mr. McColloch is an elected and ordained elder at Highland Park Presbyterian Church in Dallas and has devoted his time and talents to numerous charitable organizations and projects.